Ratting:

Version:

10.2.1

Filesize:

Various Version

Update:

Category:

Software, Tools and Utility

Software, Tools and Utility

System:

Windows (32bit & 64-bit).

License:

-

Developer:

AOMEI software

Views:

605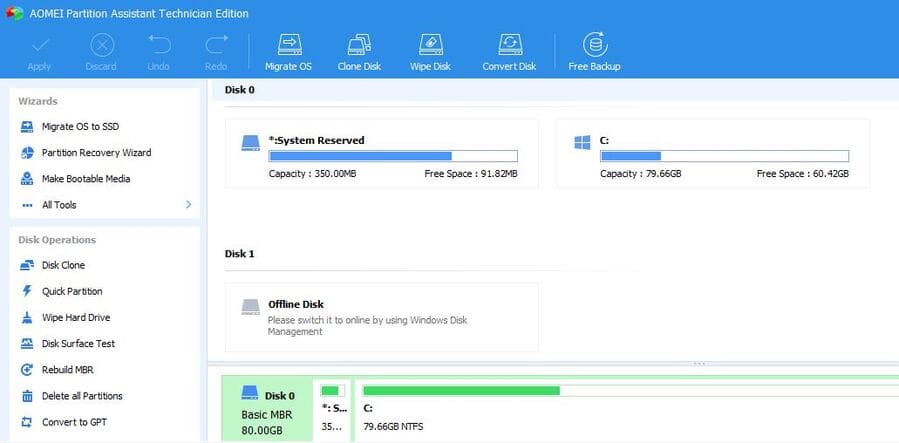 Kebingungan dalam membagi partisi di komputer kalian, bawaan windows sudah ada tersedia menu tersebut namun tidak gampang caranya memakainya. AOMEI Partition Assistant sebuah aplikasi utilitas tentang manajemen partisi tertuma bagi sobat untuk membantu membagi sebuah partisi hardisk yang ada di perangkat dekstop sobat. selain itu sobat dapat mengubah tipe hardisk GPT/MBR. Dengan tampilan mudah digunakan bisa menggunakan mouse jadi enak di pakai.
AOMEI Partition Manager Features:
Resize and move partition without data loss.
Merge adjacent partitions into one.
Merge unallocated space to a partition.
Split one big partition into two or more.
Allocate free space from one partition to another.
Copy (Clone) partition to new hard drive.
Align partition to boost performance and lifespan of disk.
Change partition type ID and change serial number.
Linux partition management: create, delete, format, wipe, copy, recover Ext2/Ext3 partition, etc.
Create more partitions even without unallocated space.
Delete, format and wipe partition easily.
Convert primary to logical partition and vice versa.
Convert FAT partition to NTFS file system.
Change partition label and drive letter.
Hide and check partition, wipe unallocated space.
Set active partition and view partition properties.

Disk Management Features:

Copy (Clone) disk without reinstalling Windows and applications.
Convert MBR to GPT disk and vice versa.
Rebuild MBR to repair or add boot code.
Delete all partition on a disk directly.
Wipe hard drive to permanently erase sensitive data.
Disk surface test to check and fix bad sectors.
Initialize disk.
View disk properties.

Easy Wizards:

Extend Partition Wizard: built-in "Extend system partition" and "Select any partition".
Disk Copy Wizard: built-in "Copy Disk Quickly" and "Sector-by-Sector Copy".
Partition Copy Wizard: built-in "Copy Partition Quickly" and "Sector-by-Sector Copy".
Migrate OS to SSD or HDD: system migration to solid state drive or hard disk drive, and support MBR and GPT disks.
Partition Recovery Wizard: recover lost or deleted partitions with ease.
Make Bootable CD Wizard: create Windows PE bootable media without having to install AIK/WAIK.
Windows To Go Creator: Install Windows 10/8 to a USB flash drive or a removable disk

Supported Technologies:

Improved algorithm to ensure a faster and safer process of moving partition.
New! Support MBR disk and GPT disk up to 4TB.
Enhanced data protection technologies to keep data safe.
Preview any partitioning tasks before apply to the hard disk.
Support all hardware RAID, such as RAID 0, 1, 5, 10, etc.
Support virtual disk partition in VMware, VirtualBox and Virtual PC.
Provide option to shut down the computer after completing all operations.
Support most HDD standards, such as IDE, SCSI, SATA, SAS, SSD, USB 1.0/2.0, IEEE 1394 (FireWire)
Support removable device, such as USB flash drive (New!), memory card, memory stick and so on.
Flexible and adjustable drag & drop interface makes the complicated simple
Support file systems including FAT, FAT32 and NTFS.
Support up to 32 disks in one system.
 AOMEI Partition Assistant 10.2.1 What New:
Optimized "the display of Partition Assistant in high-DPI devices": Now it is compatible well with high resolution and DPI monitor.
Added new languages: Romanian and Swedish. Now Partition Assistant supports 21 languages.