WordWeb is a comprehensive one-click English thesaurus and dictionary for Windows. It can be used to look up words from almost any program, showing definitions, synonyms and related words. It includes pronunciations and usage examples, and has helpful spelling and sounds-like links. Wordweb is a feature rich software that does much more than a paper dictionary or thesaurus. WordWeb is truly a Word Web – each set of synonyms is linked to other related sets. Look up "tree", click on the "Types" tab and you'll have a list of different types of tree. Click on "Part of" and WordWeb will tell you that a tree can be part of a "forest" or "wood".
WordWeb Pro Feature :
Web references
Use custom glossaries
Extra dictionaries
Find words
Full-text definition search
Cross-reference
Add definitions
Learn vocabulary
Proper Nouns
Replace, copy and paste
Look up URLs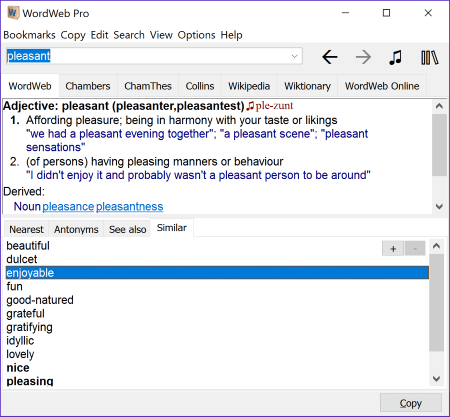 Name:

WordWeb Pro 10.1

Version:

10.1

Filesize:

165 MB

Posted by:

Posted on:

System:

Windows (32bit & 64-bit).

License:

-

Developer:

WordWeb Software

Views:

222 views

!!! Please Like AD Sponsored for Support HaramainSoftware !!!