Version:


9.91

Posted by:




Posted on:




Category:


Audio Editor, Software

Audio Editor, Software

System:




Windows (32bit & 64-bit).

License:


-

Developer:


thimeo audio technology

Views:


164 views
Stereo tool is a software-based audio processor which offers outstanding audio quality and comes with many unique features. It is used by over 1500 FM stations ranging from small local stations to 50-100 kW stations and nation-wide networks with dozens of transmitters, thousands of streaming stations and many DAB+, HD, AM and TV stations. It can be used for both live and file based processing.
Stereo Tool can make recordings sound equal and consistent in volume and sound color, bring out the details, and increase existing stereo effects. It can repair 'broken' stereo images which often occur on cassette tapes, vinyl and cheap CD's, which normally causes havoc when playing it on a mono system, headphones or a system which includes a stereo widener.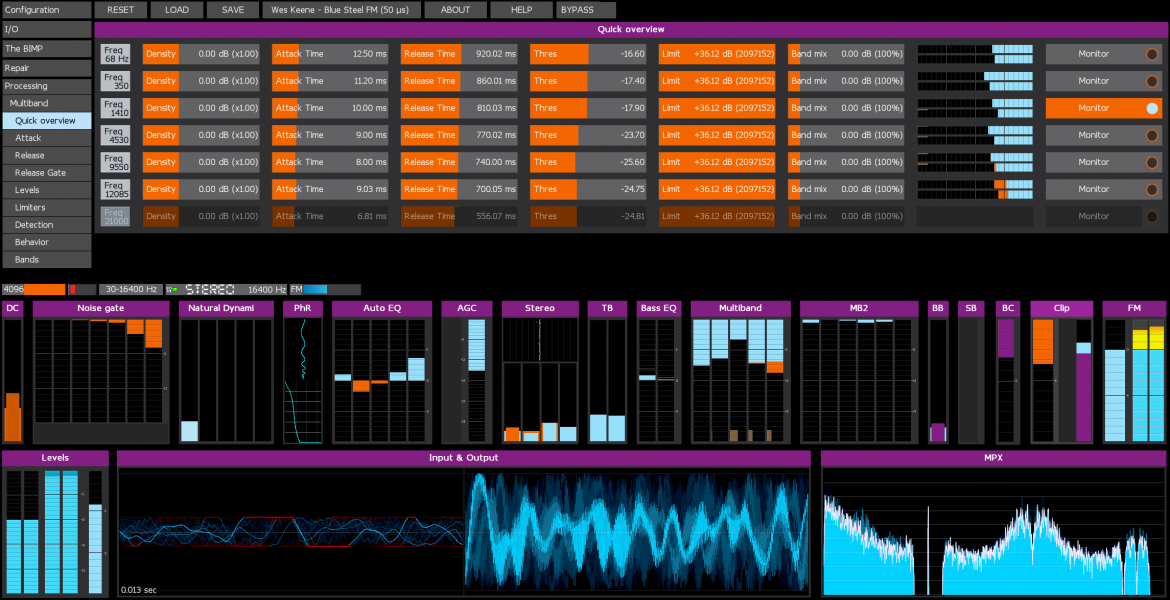 Feature of Thimeo Stereo Tool :
Declipper
– Repairs clipped audio
– Removes distortion, restores dynamics
– Also used by police forensics labs

Delossifier
Improves the sound of MPEG2/MP3 style lossy compressed files

Dehummer
Removes unwanted constant sounds, such as a 50/60 Hz hum from bad cables

Spectrum control
Non-compressing spectrum equalization

Compressors
– Wideband AGC
– Two multiband compressors, 2-9 bands
– Wideband compressor
– Low level boost for classical music

Stereo widening
Choice of multiple stereo wideners

Loud & clean!
Upto 140% audio level at 100% modulation
Gives 2-3 dB extra headroom for highs
Be the loudest and cleanest station on the dial!

Multipath
Controls RF bandwidth to avoid reception problems
Compatible with all receivers
Stations report upto 30 km bigger reception area

Stereo / rds
Built-in stereo and RDS encoder
RT+ and remote control support
Thimeo Stereo Tool 9.91 What New :
TU1770 meter now also shows multiple time intervals (Immediate, 3, 10 and 30 seconds).
GUI: Disabled Lowpass slider if it's inactive (no streaming output, and FM/AM lowpass filtering is in use).
Workaround added for OBS (Stereo Tool running as a plugin in OBS could cause it to crash after loading/saving presets).
Bug fix: Plugin versions tried to open an input sound card in version 9.90. This could cause an error to be reported.
Bug fix: Delossifier highs behavior was inverted in version 9.90 (what happened was the opposite of what the setting said).
Bug fix: Window title wasn't always correctly set in version 9.90.
Bug fix: Bass Exciter didn't work properly with Delossifier Spectral Hole Filler enabled.
Bug fix: DeReverb was not disabled by pressing "Disable unlicensed features".
Bug fix: Linux version: The file save dialog could write 1 byte outside of memory (doesn't seem to have caused any problems).
Optimized opening of multiple web interfaces (that could cause some unrelated things to be restarted).
Updated presets.
Linux Enterprise build added.
macOS Enterprise build added (without native GUI for now, use the web GUI instead).
WatchCat: Bug fix: Stereo Tool license was sometimes not accepted in version 2.0.5.
MicroMPX: Added description field for each encoder and decoder, for stations with many decoders.
MicroMPX encoder library: Now returns sample time stamps, for external SFN support.
MicroMPX decoder library: Solved channel separation issue in optimized MPX demodulator (this does not affect anyone, as nobody was using it yet).