SystemRescue adalah aplikasi bootable yang dapat di gunakan untuk sistem butuh bantuan mengembalikan berkas baik itu karena ter hapus.  Mendukung ext2/ext3, reiserfs, xfs, jfs, vfat, ntfs, iso9660, serta jaringan Samba dan NFS. Ini juga berisi aplikasi tools untuk mengkonfigurasi jaringan, layanan jaringan, alat pencarian, rootkit dan antivirus. Itu dapat diunduh dari CD-ROM, USB-drive atau jaringan melalui PXE.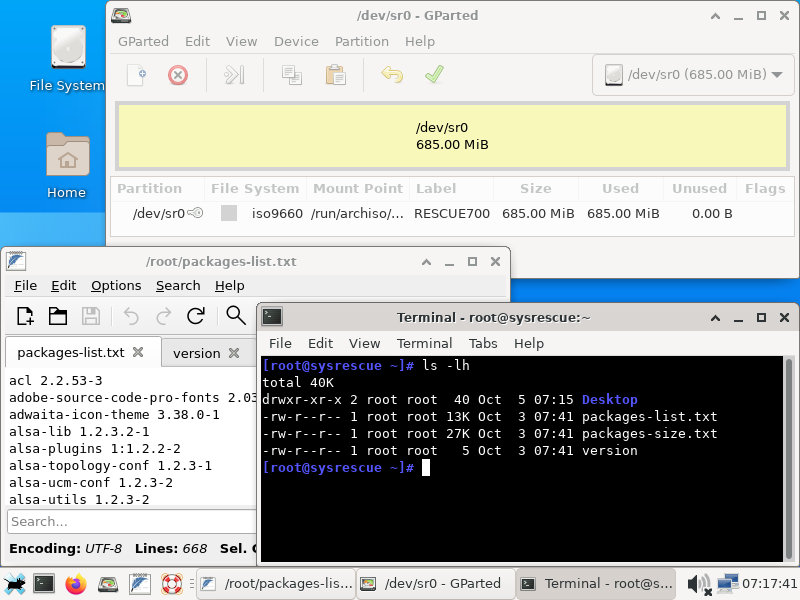 SystemRescue  features:
Fully operable and independent operating system based on Linux, which can run from a bootable CD or DVD drive, even if the main computer's operating system will not boot.
 Supports the following file systems: EXT2, EXT3, EXT4, Reiserfs, Reiser4, BTRFS, XFS, JFS, VFAT, NTFS, ISO9660.
 Support for network file systems: Samba and NFS.
 Create, edit, copy, restore hard drive partitions.
 Backup your data.
 The presence of a number of system utilities (Parted, Partimage, Fstools and other utilities).
 Availability of Midnight Commander file manager allows files and directories on different actions (copy, delete, move, rename, etc.).
SystemRescue v9.02 ISO What New :
Updated the kernel to the Long-Term-Supported linux-5.15.32
Add script and config.yaml parameter for late-loading of SystemRescueModules (SRM) (Gerd v. Egidy)
Fix the type of the default definition of parameter "ar_attempts" (#266)
Added scripts and documentation to help build the ISO image in a docker container
Reduce compression ratio for initramfs on i686 to prevent a crash at build time (#261)
Updated disk utilities: GParted-1.4.0 and partclone-0.3.19
Name:

SystemRescue v9.02 ISO

Version:

9.02

Filesize:

771 MB / 801 MB

Posted by:

Posted on:

System:

Windows (32bit & 64-bit)

License:

Freeware

Developer:

-

Views:

206 views

!!! Please Like AD Sponsored for Support HaramainSoftware !!!