Shutter adalah aplikasi dapat membuat penjadwalan yang tersedia: Hitung Mundur, Tepat Waktu, Berhenti Winamp, Penggunaan CPU, Penggunaan Jaringan, Penggunaan Hard Disk, Pengguna Tidak Aktif, Baterai Lemah, Jendela, Proses, Ping Stop, Batas Ukuran File, Tutup.
Tindakan yang tersedia: Shutdown, Reboot, Log Off, Lock Workstation, Sleep, Hibernate, Matikan Monitor, Screen Saver, Kontrol Volume, Hang Up Modem, Alarm, Pesan, Putar Suara, Jalankan Program, Buka File, Tutup Jendela, Matikan Proses.
---
Shutter is a multifunctional scheduling utility, which has a user friendly and easy-to-use interface and supports many different Events and Actions. Available events: Countdown, On Time, Winamp Stops, CPU Usage, Network Usage, Hard Disk Usage, User Inactive, Battery Low, Window, Process, Ping Stops, File Size Limit, Lid.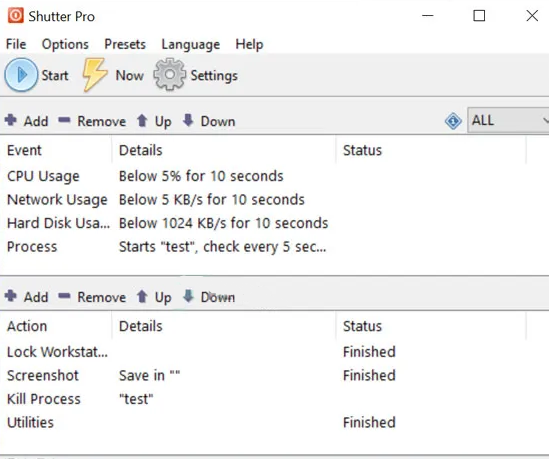 Name:

Shutter Pro 4.5

Version:

4.5

Filesize:

3.4 MB

Posted by:

Posted on:

Category:

Software, Tools and Utility

Software, Tools and Utility

System:

Windows (32bit & 64-bit)

License:

-

Developer:

-

Views:

151 views

!!! Please Like AD Sponsored for Support HaramainSoftware !!!