Ratting:

Version:

16.0.5

Filesize:

24 MB & 32 MB

Update:

Category:

Security, Software, Tools and Utility

Security, Software, Tools and Utility

System:

Windows (32bit & 64-bit).

License:

AceBIT GmbH

Views:

174
Mempunyai beragam akun juga harus di imbangi jumlah password yang lebih canggih sehingga tidak tidak bisa di akses dan diketahui oleh orang lain, Namun terkadang kita lupa akses akun nya selain di simpan di browser bisa dapat saja di akses oleh orang lain.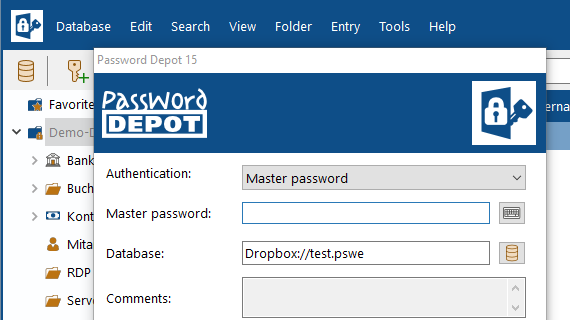 Password Depot adalah aplikasi solusi sobat yang dapat mengelola semua kata sandi Anda dari berbagai akun. Dengan ini tidak akan pernah lupa kata sandi lagi. Program ini melindungi kata sandi dari akses eksternal sekaligus semudah mungkin digunakan. Fitur: pembuatan kata sandi yang hampir tidak dapat diuraikan, login otomatis, enkripsi data.
Password Depot 16.0.5 What New:
A second password can now be set for folders and the entire database for additional protection against unauthorized access.
Added new command line parameter /KEY= for the client installer to install a license key on the client computer.
Users in the client can share their entries not only with individual users, but also with groups.
A number of minor bug fixes.