Metadata Converter adalah editor, penampil, dan pengubah metadata foto batch yang intuitif.
Perbaiki tag metadata EXIF/IPTC/XMP di foto Anda: letakkan koordinat GPS, hapus informasi pribadi dari foto Anda, perbaiki atau atur tanggal pengambilan, tambahkan hak cipta Anda sendiri, dan banyak lagi.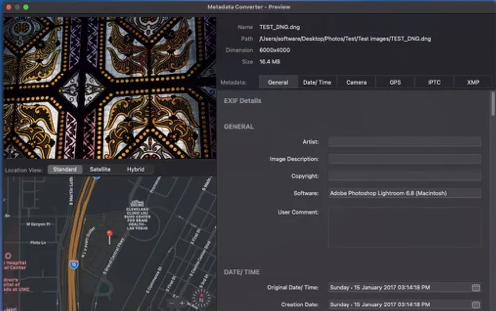 FEATURES
• Easiest way to reads & writes GENERAL, EXIF, GPS, IPTC, XMP, DATE metadata and more…
• Supports batch photos metadata editing and delete.
• Supports various common image formats including RAW formats.
• Save your settings that you may reuse by creating "Preset".
• Batch Rename Option
• Batch Photos Metadata Export Option
• Clear Metadata Information individually or selected batch photos.
• Edited fields are Highlighted for reference.
• GPS Location Manager to find location by name, coordinates and drag & drop in Map.
• Smart Date Editor to Keep Original, Empty Value, Select Date, Update Date, Inc/Dec Original Date and Inc/Dec Original Time.
• User perspective easy interface with light and dark mode.
Supports full READ/ WRITE image formats
⁃ EXV
⁃ CR2
⁃ TIF/ TIFF
⁃ WEBP
⁃ DNG
⁃ NEF
⁃ PEF
⁃ SRW
⁃ ORF
⁃ PNG
⁃ PGF
⁃ PSD
⁃ JP2
⁃ JPEG
⁃ JPG
⁃ MOS
⁃ FFF
⁃ NRW
⁃ SR2
⁃ SRF and more
Supported Tags
• GENERAL: Artist, Image Description, Copyright, Software, User Comment
• DATE/ TIME: Original Date/ Time, Creation Date, Modify Date
• CAMERA: Make, Camera Model Name, Owner Name, Serial Number, ISO, F Number, Focal Length, Focal Length in 35mm Format, Flash, Orientation, Exposure Mode, Exposure Program, Exposure Time, Metering Mode, Scene Capture Type, White Balance, Saturation, Sensing Method, Sharpness, Subject Distance Range, Lens Make, Lens Model, Lens Serial Number
• GPS: GPS Latitude, GPS Latitude Ref, GPS Longitude, GPS Longitude Ref, GPS Altitude, GPS Altitude Ref
• IPTC: By Line, By Line Title, Copyright Notice, Headline, Caption Abstract, Writer Editor, Object Name, Category, Supplemental Categories, Keywords, Sub Location, City, Province State, Country Primary Location Name, Country Primary Location Code, Original Transmission Ref, Special Instructions, Credit, Source
• XMP: Serial Number, Lens, Create Date, Modify Date, Photoshop Create Date
• Others: Compression, Document Name, FX Resolution, FY Resolution, Host Computer, Primary Chromaticities, Spectral Sensitivity, Sensitivity Type, Standard Output Sensitivity, Compressed Bits Per Pixel, Max Aperture Value, Color Space, Light Source, Digital Zoom Ratio
READ POST MORE