DVR Examiner adalah solusi perangkat lunak pemulihan video dan metadata untuk sistem pengawasan video. Perangkat lunak ini dapat membantu menghemat waktu dan uang tim Anda dalam memulihkan bukti video dengan memulihkan data langsung dari DVR, melewati kata sandi untuk memulihkan video, termasuk video yang dihapus, dari DVR yang mencurigakan.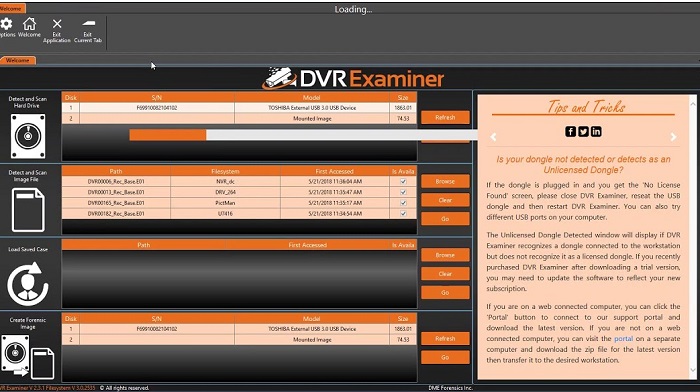 DVR Examiner Feature :
Access the DVR Hard Drive
By accessing the surveillance DVR hard drive directly, DVR Examiner is able to bypass any system passwords and recover data from non-functioning systems.

Detect and Identify the DVR Filesystem
DVR Examiner is able to identify the proprietary DVR filesystem used by the surveillance system, which means you do not need to know the make or model of the DVR.

Scan and Identify Video
DVR Examiner scans the hard drive to identify recoverable clips. Users can easily sort or filter the clip list to identify the video you need.

Preview and Locate the Incident
Easily watch the DVR video within DVR Examiner, eliminating any need for external DVR Players. Our integration with iNPUT-ACE allows users to easily enhance and analyze the video.

Export and Recover Video
DVR Examiner offers a forensically safe option for surveillance DVR data recovery. Queue exports of native or open video and save time with the included export report.

Features: Recover

Inaccessible Video
Looking for a solution for deleted DVR data recovery? On supported systems, DVR Examiner can recover video that is no longer accessible to the DVR. This allows you to recover formatted, deleted, or partially overwritten video

Frame Level Timestamps
DVR Examiner has the ability to overlay critical metadata such as Channel and Date/Time during preview, allowing you to easily develop a timeline of events. DVR time set incorrectly? Our metadata overlay can display the corrected timestamp.

Recording Types
DVR Examiner can identify the type of recording for a given video clip. This allows you to easily identify clips that were triggered by motion or recorded on schedule.

Channel Name
DVR Examiner can recover the system defined channel name, giving you insight into the area or view for each video clip.

Audio
Trying to recover critical audio evidence? On supported systems, DVR Examiner can recover recorded audio from the DVR.

Direct Hard Drive Access
By accessing the DVR hard drive (or forensic image) directly, DVR Examiner can identify and recover video significantly faster than manually exporting individual clips from the DVR itself.

Job Manager
Easily multi-task with DVR Examiner. Queue up multiple exports, view multiple previews at the same time, and begin reviewing video while the scan is still progressing.

Detailed Reporting
Save time and stop taking notes of every clip you export. DVR Examiner includes a suite of detailed and configurable reports.

Multiple Formats
Looking to export both playable AVIs and native files? Save time by exporting both formats at the same time.

Players Included
Stop hunting the internet for proprietary DVR players. DVR Examiner will provide any necessary player to review the native exports.
READ POST MORE