CorelCAD sebuah pengelola gambar 2 dimensi dan 3 dimensi yang berguna untuk mendesain sebuah bangunan dengan fungsi aksitektur yang berguna bagi sobat berbasis DWG dan tools nya sama seperti aplikasi cad lainya.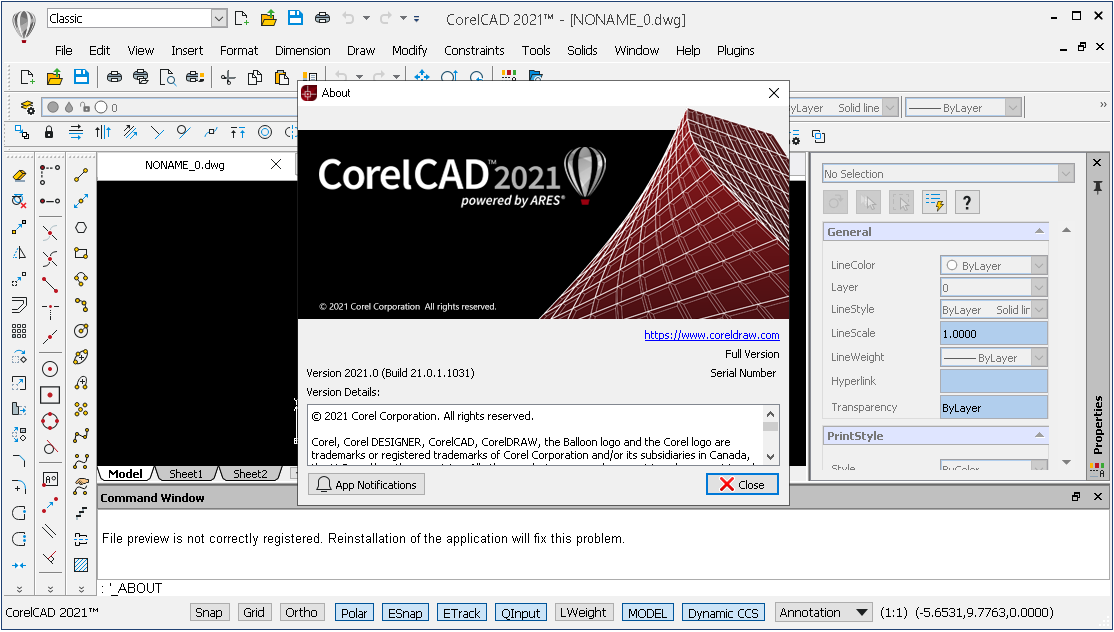 CorelCAD 2021 Features:
Native .DWG files
Quick Input
Drawing Tabs
Layer tools
Industry-standard CAD features
Drawing constraints
In-place text editing
Dynamic blocks
Table support
Entity snaps and grips
Custom coordinates
Design Resources
CAD file standards verification
Smart Dimension tools
Annotation and collaboration
PDF and DGN Underlay functionality
3D viewing capabilities
3D modeling and solid editing tools
Transition from 2D to 3D
3D mouse support
Print 3D designs
CorelDRAW file import
CorelDRAW and Corel DESIGNER export
Migration assistance
Legacy file format support
Easy file sharing
Work with GIS files
Exchange 3D files with colleagues and suppliers
Print configurations
Pack and Go command
Built for speed on Windows, Mac and Android devices
Automation support
CorelCAD 2021.5 What New :
New enhancements
– NCOPY command lets you directly copy drawing objects that are nested into a block or external reference (XREF)
– Sheet Set Manager is a great organizational tool for sheets that lets you keep all drawings and sheets accessible at the same point and time. This flexibility lets you customize the structure for your projects and workflows. Features include
– Model and Sheet views navigation
– Place on sheet tool to automatically link Model and Sheet views
– Custom subsets for grouping sheets
– Properties support on sheet set, subset, and sheet
– Functions for numbering and naming sheets and views
– Support for sheet templates so that it is easier to create new sheets
– Custom callouts, view labels, and title blocks can be created using shapes and fields/properties
– Multi-user functionality support
– Publish to PDF, DWF and DWFx(1) or print sheets
– Publish operations can run in the background
– Full compatibility with DST files created in other CAD applications
– Sheet list tables let you view all the information in a sheet set
– (1) Publish to PDF, DWF or DWFx and related options are not supported on macOS release.
Fixes
– FILLET is now supported in splines to fillet with line and ellipse.
– SPLINEDIT tool has a new Join option to combine a spline with other objects.
– UI scaling has been improved to support moving the application window to a screen that has a lower resolution.
– Cursor display issues related to unwanted objects have been fixed.
– FIND functionality improved for find and replace when working with the text in a block attribute.
– TIFF image insertion is improved (size) for the ATTACHIMAGE command.
– DWF printing is improved for the print range "Window.
– PlotDate field display and printing is improved for the field command.
– Cursor movement issue that occurred with complex 3D drawings is fixed.
– Custom Blocks issue that hid stretch grip after changing the visibility is fixed.
– ESnap detection enhanced for 3D body and Dynamic UCS.
– CLIPIMAGEM command now lets you restore a deleted image frame.
– Fixed crash that occurred after joining splines on UCS modified.
– Sheet tab switching is improved.
System Requirements CorelCAD 2021 : 
 Microsoft Windows 11, 10 or 8.1, in 32-bit or 64-bit, all with latest Updates
 Intel Core 2 Duo, or AMD® Athlon™ x2 Dual-Core processor
 4 GB RAM (8 GB or more recommended)
 1.5 GB available hard disk space
 3D Graphics accelerator card with OpenGL version 1.4 (OpenGL version 3.2 or better recommended)
 1280 x 768 screen resolution (1920 x 1080 (Full HD) recommended)
 Mouse or tablet
Posted by:

Posted on:

Category:

Graphic Design, Software

Graphic Design, Software

System:

Windows (32bit & 64-bit).

License:

-

Developer:

Corel Corporation.

Views:

500 views

Size :

462 MB
READ POST MORE